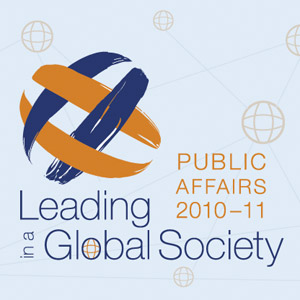 In a nutshell, the Public Affairs Conference is a chance for Missouri State to put the Public Affairs Mission into action. The three components of the Public Affairs Mission are Community Engagement, Cultural Competence, and Ethical Leadership. Missouri State brings together speakers from all over the world to offer their expertise and spark conversation about Public Affairs. This year the theme is "Leading in a Global Society" and the chair of the conference is my advisor, Dr. Gloria Galanes. She has done such a fabulous job putting this conference together.
Well, back to tonight.
I attended the plenary address of Barbara Pierce Bush, daughter of former President George W. Bush and founder and president of
Global Health Corps
.
Essentially, what
Global Health Corps
does is act as a hub for recently graduated students to connect their expertise to a non-profit working in global health. Bush said that the program seeks to show young people that no matter their background, they can be a part of the solution for global health problems.
Her story was inspiring. Now, I want to be a "fellow", and go to Africa for one year.
The neatest thing about the program is they partner up a foreign "fellow" with a local "fellow. My favorite story she shared was of a young man who was born in Rwanda. His family fled the genocide, and he returned to Rwanda to go to a university. He worked with Global Health Corps and an American fellow to create the first state of the art hospital for that region. Now, he serves his home country under the minister of Health.
Seriously, everyone should check out her program!
Pin It